H.E.R.O.
DX1PAR
7.095MHz
144.740 MHz -600 Khz PL 100
1292.920 MHz -20 Mhz PL 88.5
Telephone: (+632) 9680219; (+63917) 7955405
Email: para1932@gmail.com
Website: www.para.org.ph
---
COLOR ALERT SYSTEM
---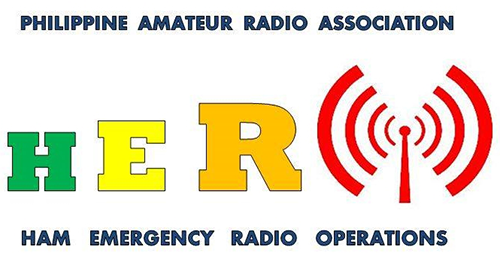 GREEN
All systems normal.
YELLOW
Commenced 3 days before expected landfall of a storm/typhoon.
Stations are advised to double check and ensure all their equipment is operational. Check power sources, ex. generator, battery, solar, etc.
Stations in the projected path of the storm/typhoon are advised to take precautionary measures.
ORANGE
Commenced when a storm/typhoon with Public Storm Warning Signal (PSWS) No. 2 or higher has entered the Philippine Area of Responsibility (PAR).
Stations are requested to monitor emergency frequencies and be ready to relay messages.
HERO activates DX1PAR/DX1NTC on a 24/7 basis.
RED
Commenced 24 hours before storm/typhoon (PSWS no. 2 or higher) is expected to affect any land mass in the Philippine archipelago; when an earthquake of significant magnitude is reported in the Philippines; or when a disaster/calamity is affecting or has affected the Philippines and emergency communications are necessary.
HERO sends and receives emergency communications on a 24/7 basis at DX1PAR/DX1NTC. Local stations in affected areas send and receive emergency communications and updates on a 24/7 basis or as long as their resources permit. Other HERO stations also relay, send and receive emergency communications.
---
Printable HERO color coding file
Download the Final HERO Report on Typhoon Ruby
---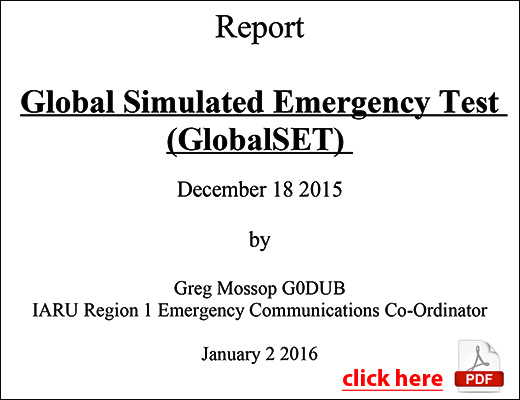 ---
GlobalSET 2015 a great success – lessons to be learnt
The Simulated Emergency Test to measure the disaster readiness of Amateur Radio involved 38 countries and four others who recognised its importance but could not take part this time.
IARU Region 1 Emergency Communications Co-Ordinator Greg Mossop G0DUB, has reported on the event, which was different from other GlobalSETs held since 2006.
While earlier events had an emphasis on message handling and field stations, a better and simpler exercise was needed to demonstrate the strength of Amateur Radio Emergency Communications throughout the world.
Greg Mossop G0DUB said: "The IARU Emergency Communications Co-ordinators decided that the best way to achieve this would be to have an availability or 'call-out' exercise.
"It asked all countries with Emergency Communications Groups to contact their members and ask them how quickly they could get on air if required."
---

---
PARA Media
---
Typhoon2000 Weather Plotting Chart
There's a plotting chart from Typhoon 2000 web site for those who wish to monitor weather systems approaching the Philippines. The chart can be viewed/downloaded by clicking the link below.
http://www.typhoon2000.ph/TCGuide.htm
It can be printed out on paper or a large tarpaulin if desired. Let's hope we don't need to use it very often this coming year.