News & Events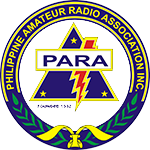 PARA Comelec Resolution 2016-1
Lifetime members, lifetime international associates, international associate members and those who have paid their PARA dues (regular or students) as of September 30, 2016 shall be allowed to register as voter, file for candidacy and vote.
The PARA (directors, district managers), club Presidents and Secretaries are requested to disseminate this information as widely as possible, in appropriate fora such as the PARA website, the PARA FB group, the 40 meter DU net, various 2 meter club nets, and club FB groups, etc.
Election calendar will be announced after September 30, 2016.