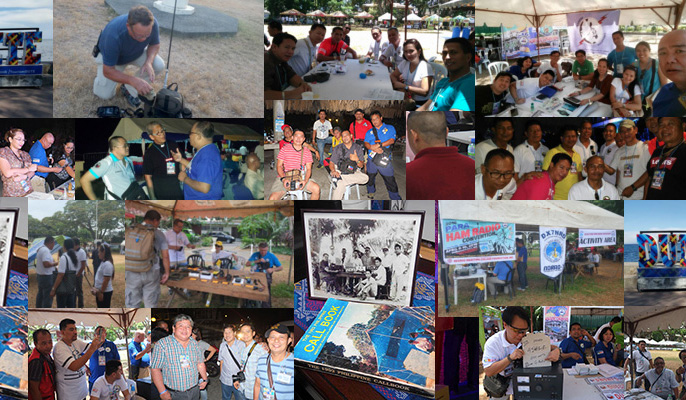 Nets
National Traffic System
A "net" is an on-air gathering of amateur radio operators. It is used for passing information from one station to another, discussing a particular topic or during typhoons, coordinating with affected stations. Normally, nets are conducted in a specific frequency at a regular schedule.
The PARA National Traffic System nets are being conducted thrice daily at 7.095 MHz: the Morning DU Net at 2300Z (7:00AM), the 0900Z (5:00PM) by DX1PAR and the Evening DU Net at 1100Z (7:00PM PHT).
Volunteers serve as net control stations – the person responsible for handling and coordinating traffic.
PARA DU1 2-meter Net
A 2 meter net on 144.740 MHz (the PARA calling frequency) is being held every 1200Z Saturdays (20:00 PHT).
If you would like to volunteer as net control for any of our nets, please contact the secretariat.
VHF NET SCHEDULE DISTRICT 1-9
VHF NET SCHEDULE DISTRICT 1-9
DISTRICT
FREQUENCY
CLUB CALL SIGN
LOCAL TIME
DAYS
1
144.620
DX1ER
8:00PM
MON - SUN
1
144.760
DX1ARC
8:00 - 9:00PM
TUE, THU, SAT
1
144.880
DX1ARM
8:00 - 9:00PM
MON, WED, SAT
1
144.660
DX1PUP
8:00 - 9:00PM
MON - FRI
1
145.460
DX1EVM
6:00 - 7:00AM
MON - SAT
1
145.460
DX1EVM
7:30 - 9:00PM
MON - SAT
1
144.960
DX1HAM
8:00 - 9:00PM
MON, WED, FRI
1
144.720
DX1ACE
8:00 - 9:00PM
MON, WED, FRI
1
144.740
PARA DIST1 VHF NET
8:00 - 9:00PM
SATURDAY
1
145.640
DX1CW
5:00 - 6:00AM
MON - SAT
1
144.980
DX1MK
8:00 - 9:00PM
MON - FRI
2
145.690
DX2ACV
6:00 - 7:00PM
SATURDAY
2
145.040
DX2BBB
3
145.060
DX3OC
8:00PM
SATURDAY
3
145.280
DX3C
8:00 - 9:00PM
MON - SAT
3
144.740
PARA DIST 3 VHF NET
8:00PM
SUNDAY
4
144.740
DX4NC
7:30-8:00PM
MON - SUN
4
144.880
DX4ICG
7:30 - 8:00PM
MON -SUN
4
145.000
DX4CAR
8:30PM
MON - SAT
4
144.900
DX4ARE
8:00PM
MON - SUN
4
144.720
DX4CN
8:30PM
MON - SUN
5
144.860
DX5RAN
8:00PM
MON - SUN
6
145.000
DX6PAR
7:30 - 8:30PM
MON - SUN
7
145.000
DX7BC
8:30PM
MON - SUN
7
144.340 MHz +600 KHz PL 123
DX7HQ CUERA Dumaguete
6:00 - 7:00PM
MON - SUN
7
144.340 Mhz +600 KHz
DX7HQ CUERA Canlaon
7:30 - 8:30PM
MON - SUN
7
144.860
DX7NRD
8:00PM
DAILY
7
144.340
DX7HQ VALLEHERMOSO
8:00 - 8:30PM
MON - SUN
7
144.720 431.900
DX7CA
7
144.720 431.900
DX7CA
8
144.740
SPARC-8
8:00 - 8:30PM

SATURDAY
8
145.900
FARE8
MON - SUN
9
145.460
DX9EVM
6:00 - 7:00AM
MON - SUN
9
144.690
DX9M
8:00PM
MON - SUN
9
144.840
DX9TX
8:00PM
MON - SUN
9
144.600 +.600 KHz Tone 162.2
DX9BC
8:00AM
MON - SUN
9
144.600 +.600 KHz Tone 162.2
DX9BC
7:00PM
MON - SUN