News & Events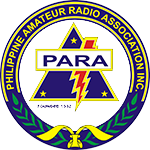 PARA Comelec Resolution 2016-2
Voter Registration: October 15, 2016 (0000 UTC) to October 26, 2016 (1200 UTC)
Click here to register
Filing of Candidacy: October 19, 2016 (0000 UTC) to October 26, 2016 (1200 UTC)
Click here to file your candidacy
Voting: November 9, 2016 (0000 UTC) to November 23, 2016 (1200 UTC)
Elections shall be done electronically.
Registration and voting shall be at PARA.ORG.PH.
Filing of candidacy shall be by email to: paracomelec2016@gmail.com
HELP desk for voter registration may be reached via email: paravotereg@gmail.com.
The PARA (Directors, District Managers), Club Presidents and Secretaries are requested to disseminate this information as widely as possible, in appropriate for a such as the PARA website, the PARA FB group, the 40 meter DU net, various 2 meter club nets and club FB groups, etc.